Aktuelles
Helvetia - Anleitung
Starting The Game
3 to 4 players can join the game with /join . Start the game using /start . Alternatively, you can the Game Play tool
Object of the Game
Players take on the role of the mayor of a small Swiss mountain village and must therefore guide its outcome.
The Rules
The Complete Rules are not described here. These are the basics that are needed to play the game.
The Interface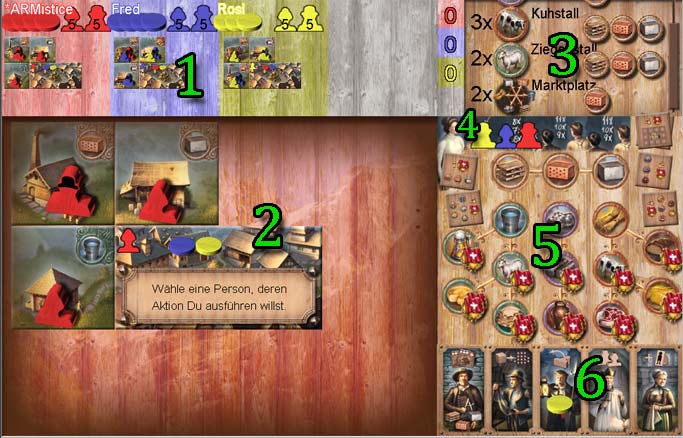 Overview of villages and player pieces
Complete view of selected village
Building supplies (can be used by builder)
School (students may be married by priest)
Market (goods can be supplied here by the carter)
Characters (Choice of action that you want this turn)
Implementation and Moving
The player whose turn it is (marked with *), can choose any character and use its power.
When you select a character, it will turn yellow, and you can perform the corresponding action (see People). Once the action has been completed, one of your coins will be placed on it.

The tour ends by clicking the bell with an arrow. You can only select one character on your turn, however you can perform this action as many time as you wish (as long as you still have coins).

An exception to this rule is that once a player during his turn (before choosing a person or after the execution of the actions) the action of a person tile he possesses can perform. He does this by clicking on the colored square in the lower right person. (Possession of these persons tiles at the end of a round is determined by the number of coins on a person.)
Characters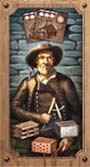 The builder can action new buildings. You must have enough of your own people (not asleep) to complete the construction cost. Select a building from the display (see #3) and select the desired workplace in the production window. After building (moving the building tile from the display to an available village location), those villagers used will go to sleep.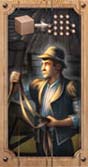 Using the coachman can products, we can produce, deliver it to the market (5). In this way, you get victory points each delivery of a commodity brings unique one victory point. In addition, we obtain for "First deliveries" of advanced goods such as Beer, cheese, bell or even 1 or even 2 victory points (marked on the delivery failures situation through the Swiss flag, which stand for victory points). By selecting a product, you want to provide that appears already by building known production window in which jobs can be selected. One is happy with the selection, providing you the final product by clicking again on the market.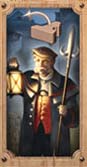 The night watchman wakes up all the people (his own and those of other players) in a neighborhood of their choice. This is done by clicking on the region of your choice (shown in green)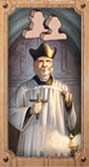 Der Pfarrer verheiratet deine Dorfbewohner (aus der Schule oder der eigenen Dorfmitte) mit Dorfbewohnern deiner Mitspieler. Das heisst, du kannst z.B. eine Frau aus der Schule nehmen und auf ein Gebäude deines Mitspielers ziehen, auf dem sich ein einsamer Mann befindet. Ab sofort kannst du dann bei der Produktion dieses Gebäude "mitnutzen".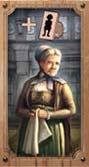 Die Hebamme hilft dir, Kinder aus deinem Vorrat (1) neu ins Spiel zu bringen. Dazu ziehst du einen Bewohner neben deinem Namen einfach auf ein Feld in deinem Dorf, in dem sich ein Paar befindet. Jedes Paar in deinem Dorf kann pro Zug genau ein Kind zur Welt bringen.
Flow of the game
Das Spiel wird in Runden gespielt, die beendet werden, wenn nur noch ein Spieler Münzen in seinem Vorrat hat. Solange man noch Münzen hat, ist Passen nicht möglich! Am Ende jeder dieser Runden werden neue Gebäude in die Auslage gebracht und die Punkte werden berechnet.
Punkte erhält man durch:
Jede Lieferung (farbiger Würfel im Markt) bringt einen Siegpunkt
Jede Erstlieferung bringt 1 oder 2 Siegpunkte (Detailangaben sind durch Bewegen der Maus auf die Siegpunkte ersichtlich)
Jedes errichtete Siegpunktgebäude bringt 3 Siegpunkte
Startspieler zu sein bringt einen Siegpunkt (wechselt jede Runde)
Jedes Personenplättchen, das man zum Start der neuen Runde erhält (Mehrheit an Münzen auf Person), bringt 1 Siegpunkt
Sonderpunkte (2-4 Siegpunkte) erhält man durch Lieferung vollständiger Gruppen (z.B. Stein, Ziegel, Holz) oder durch die vollständige Umbauung der Dorfmitte (Gebäude müssen dafür besetzt sein!).
End of the Game
Es gewinnt der Spieler, der die meisten Punkte besitzt, sobald wenigstens einer 20 Punkte überschritten hat.