Aktuelles
Introduction
First steps
You may find things are complicated and confusing when you first come here? Don't worry, all will become familiar very quickly.
It is best that you read the introduction page before you start playing in BSW. It may perhaps save you some frustration as you start to play here.
Entering BSW
There are two ways to log into BSW:
Using an Internet Browser (Internet Explorer, Firefox, etc)
Downloading the BSW Client
The Browser is meant for all those, who want to try out BSW, without installing anything. It is somewhat slower than the BSW Client and you cannot adapt it to suit your gaming needs.
In order to play over a Browser, you must have Java loaded on your PC. Downloading Java is explained under FAQ and further under installing Java.
For more frequent play at BSW it is recommended that you download the Client. The client is faster and can be adapted to suit you gaming needs.
In order to play over a Browser, simply click on the "Play Now" button from the Start Page.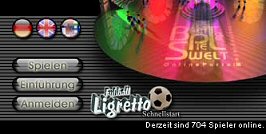 Alternatively you can click on can use the "Play now" link on any page which describes a game you wish to play.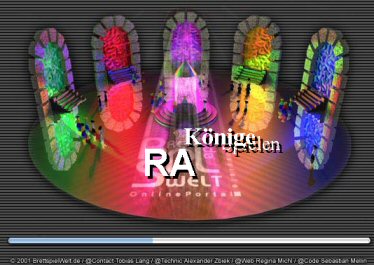 The Java application will open in a new window. The progress of the Java Script is shown in a bottom left bar. If your connection is slow, this can take a while.
If the bar stands still after about a third of its length, it is an indication that no connection to the BSW server can be made. In this case you may be being blocked by a a Firewall. You may wish to look at the section under FAQ.
Normally, a small window appears after a short time, in which you can enter your name (ID) name and, if you are already registered, your password. To play you can enter a name without password, however must be a name not currently registered by another player.
Help for Beginners
The Help Screen
When you enter BSW as a beginner, a small window opens, offering help: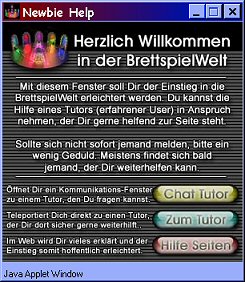 Here you can select whether you want to chat with an experienced user who helps you by answering questions or join a tutor directly in order to see the local environment in action. Clicking on the Button "Hilfeseiten" takes you to the summary help page.
If you selected to chat with a Tutor, you should make sure that your game window is not maximized; otherwise you might overlook channels and tell windows (for example from a tutor willing to help you)
It is best not change the size of the BSW window when you first start, otherwise you may not be able to see the main command channel called "Deine Umgebung" or local environment. This is the channel where you place commands and see actions and feedback.
The Help Tool
The Brettspielwelt has a Help Tool you can call up any time via the grey Toolbar on top of the window.

With a click on the red question mark a small help window opens. If you are in the Game Manager, help with the manager is shown. If you are in a Games Room you can receive help with the game. (Note that this may be in German!). In each window, there is also an option "Zurück zum Start" which takes you back to the main help page, which will explain how to call for help, get back to the manager and explains the most important commands.
Finding a Game
The Game Manager
On entering BSW, you should find yourself at the Game Manager: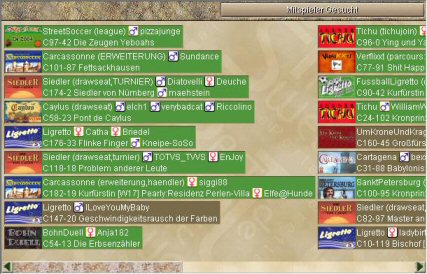 Here you can see all the games in BSW for which other users currently search players. You can directly join the game games by left clicking when the line is green. If the line is brown, a click will bring you to the room without joining, where you can ask if more players are wanted.
There is more information on this function in Game Manager help.
The SPV Channel
You can also use the SPV Channel to find players or games. This channel opens automatically and you can either use it to call for players or react to calls from other players. One drawback is that most of the chat in this channel is in German.
The Most Important Commands
When you first join BSW, you only need a few commands. You can find an overview of the commands at Basic Commands. You can also use the Help Tool and the Toolbar Help.
These commands are always entered into the "Deine Umgebung" or main chat (underneath the game window).
/manager

takes you to the Game Manager.
With

/join

you can join a game.

/start

lets you start a game, provided enough people have already joined.
With

/ghook NAME

you can directly join the person called "NAME" (e.g. if NAME was looking for players in another channel).

/tell NAME

Lets you open a private chat window with "NAME".
Those are the most important commands. If you still need help, you may find your answer on the Help Page. If you don't find your answer there, you can ask in BSW via the Tutorenchannel (/channel Tutoren or in English in /channel Tutor_en) or in the Help Channel (/channel assistance). There should be someone online who can help.