Aktuelles
The Room Tool

Der Tooltipp über dem Button "Anwesend" zeigt alle Spieler, die sich im selben Raum mit dir befinden.
Durch Anklicken des Buttons öffnet sich das Fenster "Anwesend".
The tool can be closed by clicking on the red X on the top right part of the window. You can get context sensitive help by clicking the blue question mark symbol next to it.
With Tool Configuration you can add or remove tools in the tool bar.
Description

In this window all present players are shown. If you clicks on one of the names using the Info-Window the players info will be shown.
Click on the 'Speaker' symbol to open a chat channel with that player.
Players known to you in your Frinds List are shown in green. Players in your Not Wanted/Bad List are shown in red.
You can click on the "Darstellung wechseln" command to toggle the information to show rank, titles and language.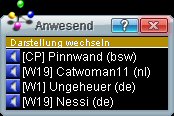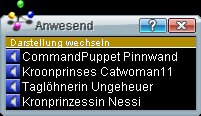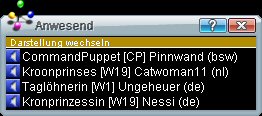 You can also set up a specific view as standard by modiying it in your Prop File.
Menu in the tool bar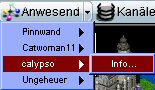 Alternatively you can view the current players by clicking on the down arrow to the right of this button. You can click on a player then select "info..." to get further details.
You can also modify your Prop File to add selections. DEtails can be found at Menu entries for the Room tool. The function would then look as follows: