Aktuelles
Tutor
Tutor's Aid
The Tutor's Aid is a useful tool for helping new people in BSW. Tutors are typically experienced users, who can help new people adapting to BSW. An explaination on how to use the tools is given as follows:
Opening the Tutor Tool

Click on the "Tutor" button to open the application.
The tool can be closed by clicking on the red X on the top right part of the window. You can get context sensitive help by clicking the blue question mark symbol next to it.
With Tool Configuration you can add or remove tools in the tool bar.
How can I help beginners?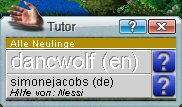 When a beginner enters BSW, he is given the option to select the "Tutor Help" to get him started.
The Tutor tool shows all new players who have requested help.
If you click on a name when it is highlighted in grey, a "tell" window opens with that players name. The tutor can now start chatting with the new player.
By clicking on the blue question mark, next to the player's name, you can see that Player's Info. THe brown bar at the top lets you toggle between viewing all beginners or beginners who haven't yet been assisted.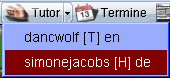 Alternatively you can use the arrow down to the right of the "Tutor" button. There the beginners are then likewise indicated. You can H hook a new player or T Tell/Chat with them.

If you don't want to have the Tutor Tool on your screen, you can hovver over the Tutor Tool button to display a summary. You can also see whether someone has already assisted.