Aktuelles
Host-Funktion automatisch an! Und andere Neuheitenbei der Spielvermittlung. Lest unbedingt hier im Magazin nach.
BSW-Team am Dienstag, 30. Januar 2018 9.54 Uhr CET.
Installation with MS Windows
Installing the Client
After clicking on the file on the Download Site and saving any desired files, you will be prompted to open the install file. It opens the installation window: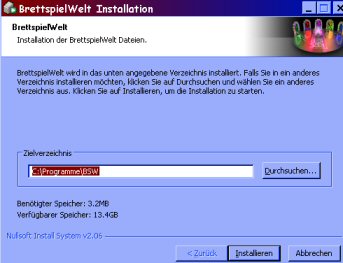 The easiest way is to use the default installation folder and then click on the "Installieren" button to start the installation. You can change the desired location where you want the client to be installed by clicking on the "Durchsuchen" button. The client will now be installed and all you have to do is click on the "Fertigstellen" button to finish the installation.
The installation for Windows Vista or Windows 7 is basically the same as other Windows installations. However, the default folder is not "C:\Program Files\BSW" since these operating systems typically reserve the editing rights to these folders and can also create problems with updates and changes (eg editing the *.prop file). The new target drive for the installation on Vista/W7 should be "C:\Users\%username%\AppData\Roaming\BSW\".