Aktuelles
Wegen eines Fehlers müssen die Bürgermeisterwahlen für den März leider wiederholt werden. Bis zum 15. März könnt ihr alle noch einmal eure Stimme abgeben. Wir entschuldigen uns für die Panne.
BSW-Team am Dienstag, 5. März 2013 22.36 Uhr CET.
Toolbar
You can configure the Client Toolbar with some really useful features.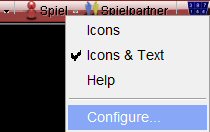 To configure the toolbar, right click on your mouse on the grey toolbar border and then select "Configure...". The "Icons" and "Icons & text" options toggle the display between icons and text or just icons.
Toolbar Configuration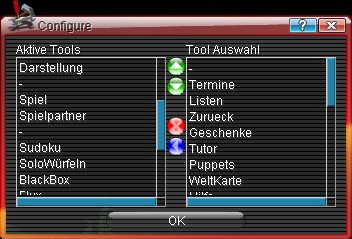 The configuration window is divided into three areas. On the left are your currently selected tools, on the right are all the tools options available to you and in the center are the add/remove buttons.
Adding Tools: Navigate and select your desired tool, then click on the blue arrow symbol to move the tool to the active list.
Organizing: You can change the position of the tools on the toolbar by manipulating via the green arrows.
Removing Tools: To remove a tool from the toolbar, select the tool then click the red 'X'.
As a registered player you can make changes to the toolbar and the use the command /save to save your changes. If you you have just registered, you need to make your configurations after you have just completed a game and then log back in.
Save Toolbox positions
To save, any tool window must have been opened at the start and configurations made as described above. You must open all the windows you want to see open on startup and put them in position. Then close the configuration window with a click on OK and save this configuration with /save in the main chat window.
What tools are available?
| Image | Tool | Function |
| --- | --- | --- |
| | Arrow | Back arrow to exit a room or go to either the 'Game Lobby' (Most Recent Games) or 'Game Archive'. |
| | - | Insert a separator in the toolbar. |
| | Puppets | Puppet tools |
| | WorldMap | The World Map of BSW |
| | Help | Short help for beginners |
| | Flux | The game Flux |
| | SoloDice | The game Solo Dice |
| | Sudoku | The game Sudoku |
| | BlackBox | The game Blackbox |
| | SU-Info | Statistics of SU Games where you are. |
| | Quick | QuickChat, a tool for common or standard (German) sentences |
| | Yell | Yell settings |
| | Channels | Listing of the existing Channels and their participants |
| | Room | Shows players currently in your room |
| | Info | Information about players |
| | Display | Display Settings |
| | GamePartner | Game Partner Menu |
| | News | View BSW News (in German!) |
| | Game | Start/Join/Configure game options |
| | Menu | Adds your Prop File menu to the toolbar |
| | Listen | List Manager |
| | Tutor | Tutor Tool - Help Newbies |
| | Calendar | Overview of leagues and tournaments |
| | Manager | Game Lobby |
| | Treff | Gathering tool |